After few years without 3D printer I'm back in this field of interest. I worked as 3D printer designer before years but after I left that company I didn't worked with 3D printer anymore until now. Actually I'm designing and prototyping fpv race copters so I decided to buy my own printer mainly for that purpose. I wanted something cheap but with a good support in community. After weeks of consideration different options I bought Ender2, that is cheap printer with quite good support in forums and Thingiverse. (At that time I didn't know about licence violation and really bad behavior of Creality company. For these and some another reason I can't suggest to buy this printer anymore. I will explain it more in a future topic.)
Yes this is cheap Chines printer so it means this is almost unusable for my purpose. It is possible to print some nice PLA things with the printer directly as is in the box. Unfortunately after a time everybody will start troubling with lot of things. But I'm OK with that because I expected this low quality and I planed to do lot of upgrades before I bought it. You can look at all topics in category ender2-printer where are or will be described all modification that I did.
My biggest requirement was speed, possibility to print flex material, reliability and have printer as silent as possible. Also I got an early version so I had to modify whole form package of all components for smaller footprint of printer on my desk.
All of these modification are mainly for the Ender2 but they can be used for almost all of Creality printers and some of them for any printer you have.
At start I printed a new extruder holder that fits directly above the efector. Due to that is possible print flex materials so much better and faster because there isn't flexibility of a filament in the bowden (After modification there isn't almost any bowden). Also after that was possible to minimize retract movement and minimize stringing.
https://www.thingiverse.com/thing:3103256
Material: CPE HG 100 (PET)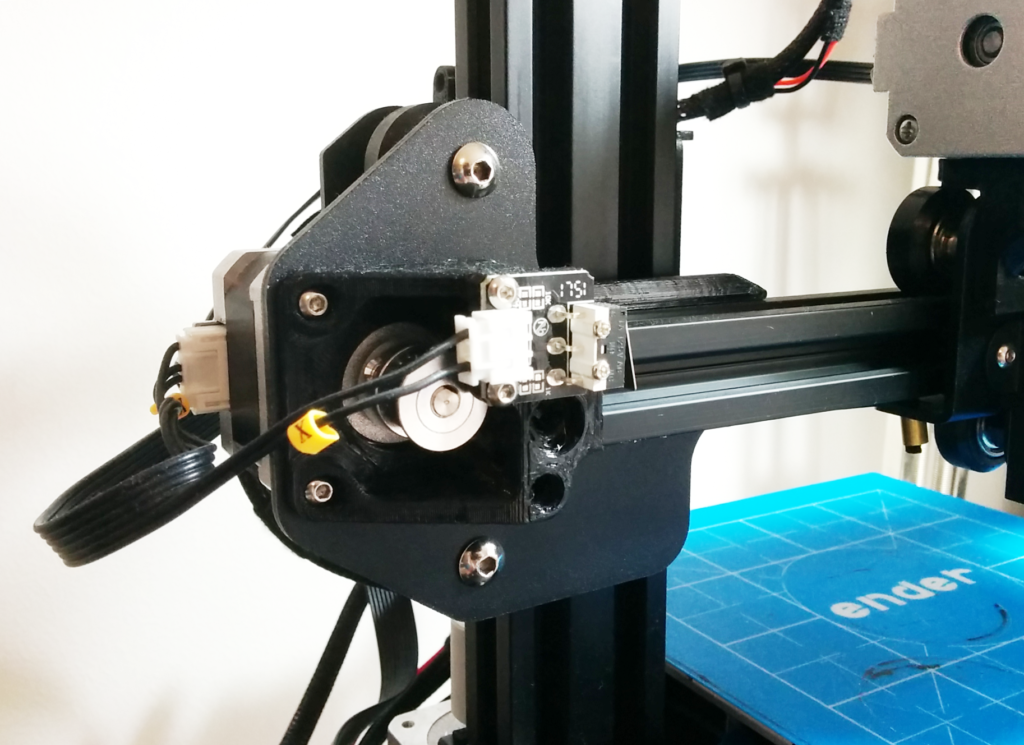 After some time of printing I realized that belt are going to be not tighten enough in quite short time after tightening. It is caused by bad construction of motors holders and belt pulleys holders. It is known problem in community and solution is actually created by other users. These parts are great solution. I'm able to tighten belts much more than before and they stay tighten for really long time. Correctly tighten belt decrease a ghosting and similar artifacts on printed parts.
https://www.thingiverse.com/thing:2789156
https://www.thingiverse.com/thing:3272162
https://www.thingiverse.com/thing:3271023
Material: CPE HG 100 (PET)
Good the printer is more reliable, precise and faster. Lets do something with noisiness and packaging form. I don't like the power supply as external box next to the printer. It require more space and it is ugly. So my plane was hide it under the printer. For that purpose I bought a box for the PS and cable management with a size perfectly fitting the foot print of printer. Moreover there is a more space in the box for another components like rPi, etc.. The power supply is without power switch so I will do one myself on front panel of the box. The power supply cable went out from the box at rear panel. At top was necessary create a hole for a fan and I did another hole in the front panel because the PS has to be properly cooled. After that I did experiments how to do the printer more silent and I found a really easy way that is perfectly functional. I used a piece of a soft foam between the printer and the box. It is working like a suspension and it's filtering all vibrations that was going to my desk and resonated it. Moreover it has another effect in print quality. Due to quite well suspension, stepper motors have less work with sharp movements and it leads to almost perfect elimination of ghosting. For the best improvement is good to have the printer very light so try to eliminate all heavy components on printer that can by attached outside of the printer body. Mainly I highly recommending to move spool out from the printer body to the desk next to it. I didn't have external spool holder yet but it is in plan and it will be described in a one of next topics. So if you have any printer I highly recommend doing this mod because it will extremely increase print quality and decrease noisiness.
During printing these modes and also another parts I realized that printing especially PLA is problematic without an external fan. So I started experimenting with fan efectors situated next to the nozzle housing. At this time I'm using https://www.thingiverse.com/thing:2972610 but I'm not satisfied with its functionality and I will change it in near future. Probably I will draw one myself.